A watershed is an area of land that catches rain and snow and drains or seeps into a marsh, stream, river, lake or groundwater. Homes, farms, cottages, forests, small towns, big cities and more can make up watersheds. Some cross municipal, provincial and even international borders. They come in all shapes and sizes and can vary from millions of acres, like the land that drains into the Great Lakes, to a few acres that drain into a pond.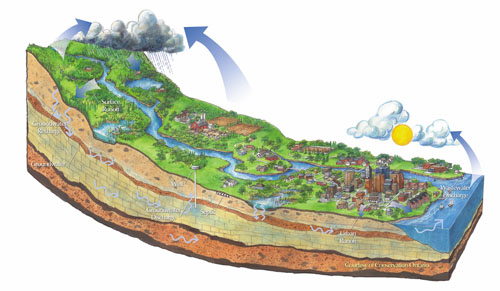 Crowe Valley Conservation Authority (CVCA) is located within Eastern Ontario, approximately one hour east of Peterborough and one hour north of Belleville.  The CVCA watershed is roughly 2000km2 in size and includes three sub-watersheds named the Crowe River, the North River, and Beaver Creek watershed.
The Crowe Valley watershed gets its headwaters from the most northern reaches of the watershed, near Paudash Lake in Wilberforce, Ontario. From here the many rivers gather momentum and size as they drain towards the final outlet of the Crowe Valley watershed. The outlet for the Crowe Valley watershed is just south of Marmora, where the Crowe River drains into the Trent River on its journey towards the Bay of Quinte and Lake Ontario.
Intermixed with a number of lakes and wetlands, natural water flows are regulated by a series of water control structures (dams and weirs) that are operated by Crowe Valley Conservation Authority operations staff.  These structures are primarily operated for the protection of loss of life and property with additional consideration given for recreation and tourism.
About 85% of the area is covered by the rugged terrain of the Canadian Shield where outcrops of granite and other Precambrian rocks are located at or near the surface. The remaining with 15% of the watershed is blanketed by the rolling farmlands and limestone regions that lay south of Highway 7.
Numerous wetlands, natural riverbank corridors and forests are intertwined throughout the watershed, providing essential habitat to the many species of fish, mammals, birds, reptiles, amphibians and insects that thrive in this region. In addition to habitat, features such as wetlands and natural river corridors provide increased flood and drought control throughout the year, improve our air and water quality, prevent soil erosion and provide recreational opportunities for those with a love of the outdoors.
Other predominant features of the watershed include limestone plains, the gorge of the Gut Conservation Area, and the karst topography of Callaghan's Rapids Conservation Area and Beaver Creek.
To learn more about our watershed, read our 2013 Watershed Characterization Report here!