Crowe Valley Conservation Authority (CVCA) watershed covers an area of approximately 2,006 km2, and is comprised of three primary sub-watersheds:  the Crowe River, North River and Beaver Creek. Numerous wetlands, natural riverbank corridors and forests are intertwined throughout the watershed, providing essential habitat to many species of fish, mammals, birds, reptiles, amphibians and insects that thrive in this region.
For over 60 years, Crowe Valley Conservation Authority has worked in partnerships with its member municipalities, the Ministry of Natural Resources and Forestry and the Ministry of Environment, Conservation and Parks. CVCA water management dates back to the late 1950s and has continued to evolve and adapt according to climate change conditions that have been observed and recorded.
With its head office in Marmora, Ontario, Crowe Valley Conservation Authority operates fourteen water control structures (dams and weirs) along the Crowe River and its tributaries. CVCA also maintains a stream flow forecasting center to help reduce the risk and warn its residents of flooding hazards.  Additional water management responsibilities include maintaining recreational water levels on the lakes with water control structures, implementing Source Water Protection, coordinate low water response and monitoring water quality.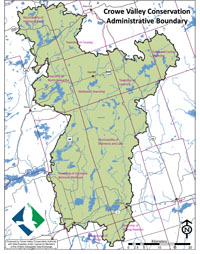 Click to see our municipal boundaries