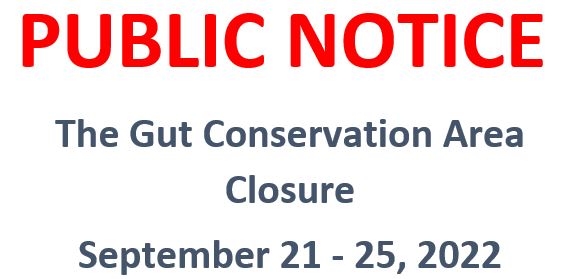 The Gut Conservation Area will be closed September 21 – 25, 2022 for repair work to the road.
---
The Gut Conservation Area is a 400-acre site located east of Apsley, ON. This Conservation Area features a parking lot, walking trails, a look out area and a stairway down to the gorge. The "Gut" is a large gorge that the Crowe River flows through for about 230 meters. The fissure that forms the gorge is over 30 meters high and varies from five to ten meters in width. The gorge presents a breath-taking glimpse of this unique terrain.
Directions: From havelock, at Hwy 30 and 7, turn right on to County Rd # 46, Travel 42 km/ 26 Mi to within 50 meters of Hwy 504 intersection, turn right onto Lasswade Rd and travel 6 km/ 4mi, look for the Gut Conservation Area sign and turn right on road for 1 km/.6 mi to the parking lot.